---
---
Now you can monitor your blood pressure with clinically accurate results, by using this marnur wrist blood pressure monitor. It measures your blood pressure and pulse rate simply and quickly.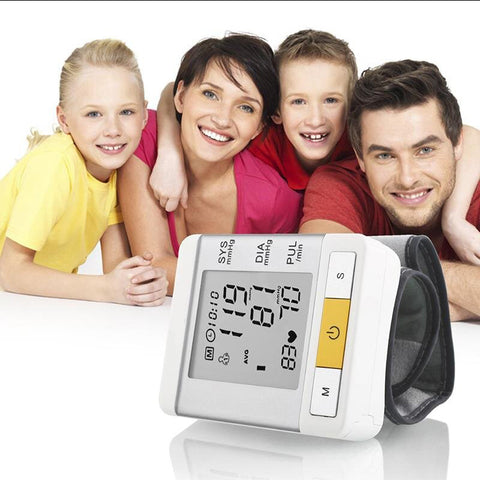 Fully Automatic Wrist Type with large LCD Display. Simply strap it on and let it run. After seconds it will begin to monitor your blood pressure.
Features:
ONE STEP MEASURING: Advanced one step measuring technique makes blood pressure monitoring quick and simple. At the press of one button the automatic inflate technology inflates cuff to appropriate level. Get an accurate blood pressure reading in a matter of minutes. Cuff fits wrist perimeter of 13.5cm-19.5cm.

ACCURATE AND RELIABLE - Best blood pressure monitor produces highly accurate readings using advanced "intelligent" technology. This inflates the cuff to peak pressure tailored to your own blood pressure level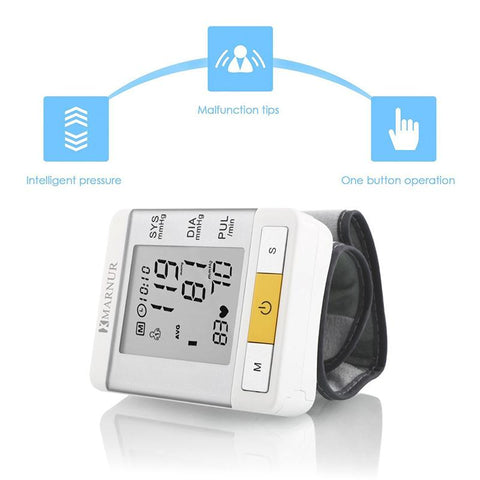 FUNTIONAL MEMORY RECALL: 2×90 sets memory: Memory function, Double Mode, totally can store 180 readings automatically. Designed for 2 users with individual easy-access buttons. Store 90 records per user and access your records at any time to track your progress.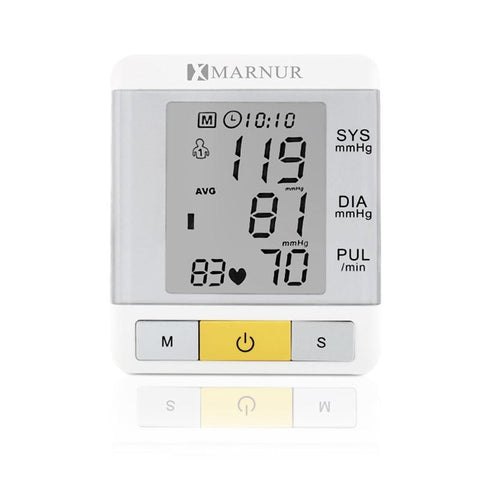 LONG TIME TO USE: Use batteries power for a long time , 60-80 times measure, so it can save your time, and your worry of your family.
Specification:
Memory function: 2x90 sets memory of measurement values
Power source: 2pcs AAA batteries DC. 3V (battery not include)
Automatic power off: in 3 minutes
Main unit size: L73mm*W65mm*H65mm
Main unit life: 10,000 times under normal use
Operating environment: 5~40℃(Temperature), 15%~85%RH(Humidity),
86kPA~106kPa(Air pressure)


Notice before use:

Applying the Wrist Monitor on your LEFT wrist, Do not apply over clothing.
If wearing a long sleeved shirt, be sure to roll sleeve back to forearm.
Tighten cuff firmly as not to wiggle. Make sure cuff is snug-not too tight or too loose.
Before Taking a Measurement:Avoid eating, drinking alcohol, smoking, exercising,
and bathing for 30 minutes and rest for 15 minutes before starting.
Avoid taking a measurement during stressful times. Take the measurement in a quiet place.
Do not stand while testing. Sit in a comfortable position and place wrist LEVEL with heart.
You can place your wrist on the case that comes with the monitor.
Use the monitor in the morning after you get up BEFORE your breakfast, that is the best time.
Avoid speaking or moving body parts while testing. Any MOVEMENT will affect the accurate reading.
The monitor and palm face you after apply the monitor to your wrist.
Wait 3 minuts or longer before you re-testing.
Compare the readings for same wrist, same position and same time only.Not for people with arrhythmia.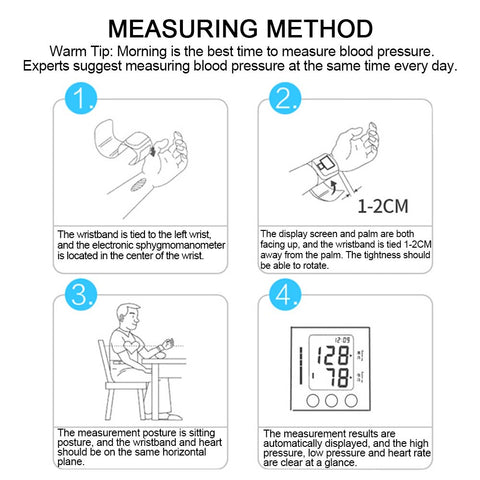 Packing List:

1 x Marnur wrist blood pressure
1 x Instruction manual
1 x Storage box
(Please note batteries are NOT included, they have been removed at manufacturing for accelerated delivery)
Shipping -Your Item will be packaged and shipped out within 3-5 days of ordering. It will delivery within 7 to 15 working days! Please be patient and note that delivery times will vary depending on your location.
---