---
---
Wrist Blood Pressure Monitor is lighter, smaller and more compact than other types of monitors available in the market. The automatic memory of this device keeps your last 60 blood pressure measurements for efficient tracking. 
Blood Pressure Wrist Cuff measures your blood pressure during the cuff inflation for quicker, more effective reading.Simply strap it on and let it run. After seconds it will begin to monitor your blood pressure.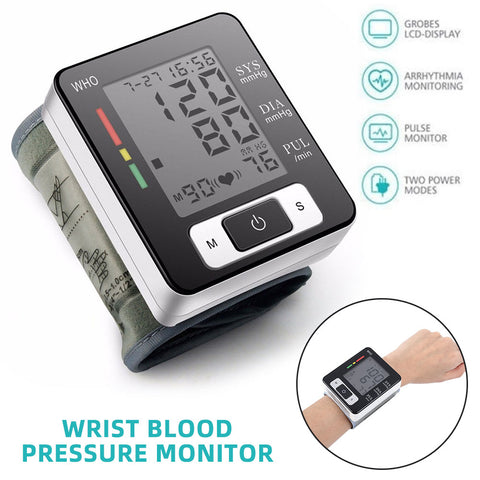 Features:
Memory capacity: each side may record 60 groups of measurement data

Pressurization: full automatic pressurization mode

Decompression: full automatic decompression mode

Air discharge: full automatic rapid exhaust mode

Wrist Circumference: 135 ~ 195 mm

Measurement Range:

Pressure: 20 ~ 280 mmHg

Pulse Rate: 40 ~ 165 beats / min

Accuracy:

Pressure: within ±3 mmHg

Pulse rate: within ±5% of reading

Power supply: 2 x AAA alkaline batteries (not included)
Specifications of Wrist BP Cuff: 
Wrist Circumference: 135 ~ 195mm (Cuff size:5.3~7.5 inches) 
Measurement Range Pressure: 0 ~ 280 mmHg 
Pulse Rate: 40 ~ 199 beats / min 
Pressure Accuracy: ±3% 
Pulse rate Accuracy: ±5% 
Power supply: 2 x AAA alkaline batteries (not included) 
Size: 2.48 x 2.60 x 1.18 inches (L x W x H) (Approx.) 
Specifications:
Size: 6.5 * 7.7 * 2.5cm ( L*W*H)

Color: Black & White

Net Weight: 105g

 
FAQs:
Why the measurement result of this blood pressure monitor is different from the other one? 
Several elements may cause the error of the measurement result. In order to get the most accurate results, please follow the instruction while testing:
Make the testing at the same time every day
Put the cuff on the wrist and keep 1cm from the palm line
Please don't eat, exercise, smoke or drink alcohol in 30 minutes before testing
Sit in a relaxed position, don't cross your legs, and put your arm resting on the table while testing
I have measured several times a day, why the results are different?
Human blood pressure will fluctuate every 10 seconds and will be affected by the environment, time, emotion. So that is why the pressure value will be different at different places, time, arm and measurement method. It suggests to compare the pressure value at the same time, same place and environment, and please follow the correct measurement method.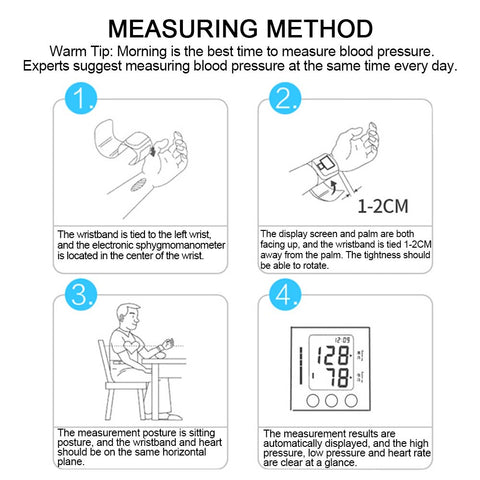 When should I measure in a day?
The best time to measure blood pressure is 2 to 3 hours after you get up. It's also good to measure when you calm down. Please don't test after exercise. Keep a good mood before testing.
Package Includes:
1 x Blood Pressure Monitor( batteries not included)

1 x  Wristband

1 x User Manual
(Please note batteries are NOT included, they have been removed at manufacturing for accelerated delivery)
Shipping -Your Item will be packaged and shipped out within 3-5 days of ordering. It will delivery within 7 to 15 working days! Please be patient and note that delivery times will vary depending on your location. 
---