---
---
Non-Contact Digital Accurate Measurement Infrared Thermometer
Are you tired of the hassle taking the temperature of your kids while they have a fever? Did you ever experience that frustrating feeling when the kid wakes up in the middle of the sleep because you have to take his or her temperature?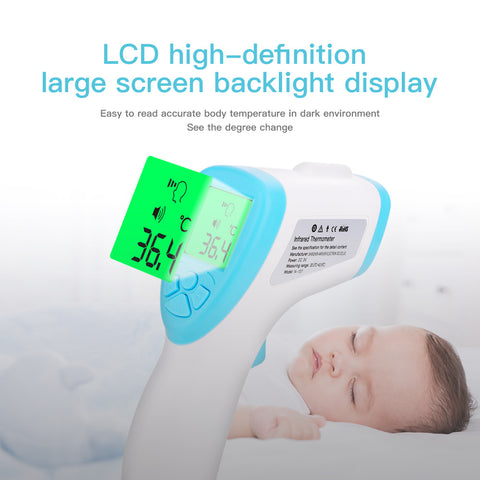 Non-Contact Digital Infrared Thermometer is a convenient way to monitor your kids' fever. There is no need for you to wake him or her up every time you check on the temperature. It has a backlight LCD digital display that you can even see the digits in a dark room. 
First of all, it has a feature that is very innovative and helpful. Temperature measurement is as simple as aiming the infrared thermometer to the forehead at least 5-15cm distance. There is no need for waking up in the middle of the night. Also, just conveniently aim the thermometer at the forehead and it gives you an accurate result.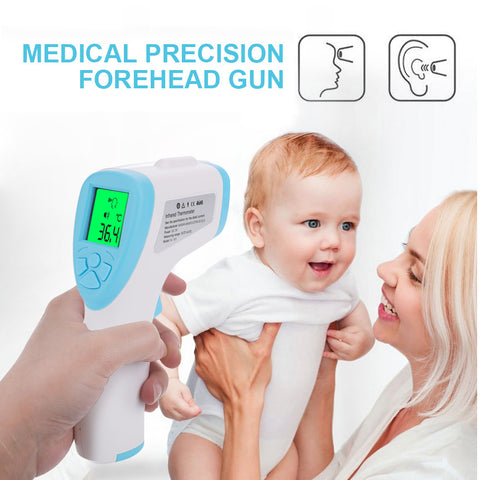 Finally, it is a good tool for capturing the person's body temperature regardless of the room temperature. For best results, you may place the thermometer inside the room for about 10-15 minutes before using it. That will give you the accurate body temperature every time.
The product comes in convenient features to help you out with releasing stress and let it handle or monitor the fever for your baby or kid. If you want to check the temperature either in Fahrenheit or Celsius, all you have to do is to long press the mode button.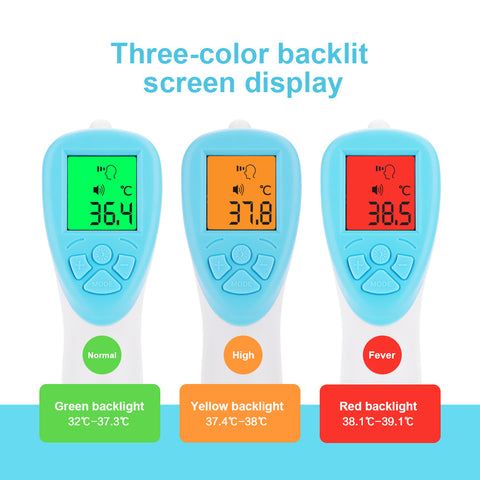 Also, it has a different backlight color that will indicate different body temperature range. Lastly, it has an automatic data hold function and auto power off function.
Now, how handy is it? It is definitely a must-have!
Specification:

Color: white + blue
Material: ABS + electronic components
Product size: 15.5 * 9.3 * 4.4cm
Certification: CE FCC certification

Model No.

: N-107

Battery: 2 AAA batteries (not included), low battery reminder, standby current less than 5UA
Mode selection (adjustable): human body temperature (temperature range: 35-42 degrees Celsius), item temperature
Human body temperature model error range: within the range of 34-42 degrees Celsius plus or minus 0.2 error
Test time: 1 second
Test distance: 3-5cm
Automatic shutdown: <15S
Working environment: temperature 10-40 degrees Celsius, humidity 15% -85%, air pressure 80-106Kpa
Product features: precise and fast
Three-color backlight, alarm prompt, memory data storage, Fahrenheit and Celsius temperature conversion
How to use: Please read the manual carefully.
Packing List:
1 x Thermometer
1 x User Manual
(Please note batteries are NOT included, they have been removed at manufacturing for accelerated delivery)
Due to high demand and scarcity of this product, thermometer shape, color, or model may slightly differ to a nearly identical model.
Shipping -Your Forehead Thermometer will be packaged and shipped out within 3-5 days of ordering. It will delivery within 7 to 15 working days! Please be patient and note that delivery times will vary depending on your location. 
---