---
---
This non-contact forehead thermometer is a really great home gadget you'll need to quickly and reliably measure body temperatures or object temperatures.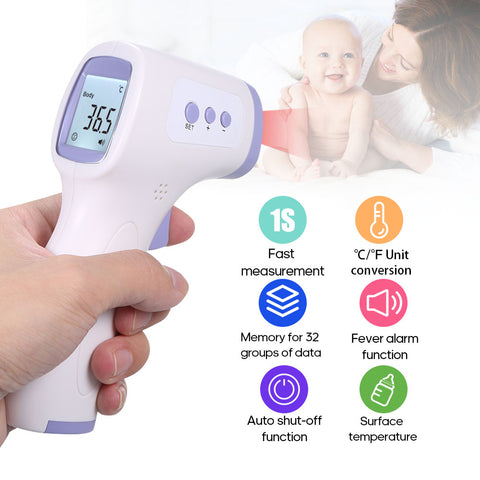 Step 1:

 

Press the set button and switch the thermometer to 'body' or 'object' mode
Step 2:

 

Keep at the distance of 10-30mm from the surface and press the measure button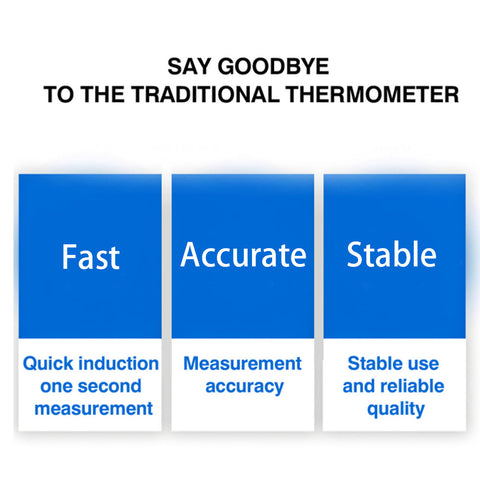 Easy Switch Between

 

°Celsius and

 

°Fahrenheit
It has a feature of "2 mode Switch". This extremely useful thermometer is designed for people of all ages including babies and elders as well. This feature is not only for the forehead thermometer but is also included in the surface thermometer as well.
Just press the button and hold it for 3 seconds. Press the 'set' button OR the 'mode' button to switch between C° and F°.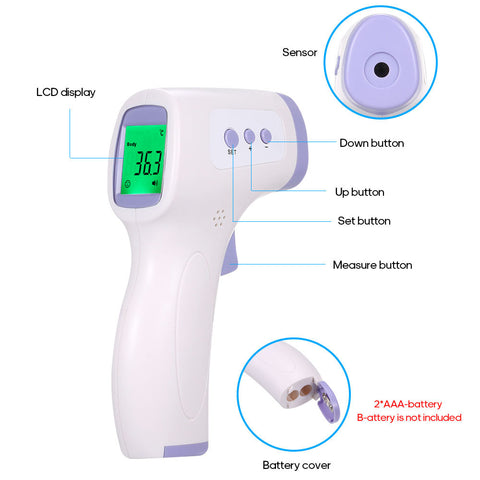 Accurate Reading in 1 Second
This thermometer is useful for measuring your temperature quickly, both indoors and outdoors. The advanced infrared temperature sensor with high sensitivity makes sure that the results are highly accurate. The high accuracy ensures the best care for your family.
How to Check? Press the measure button and the result will show in just one second.
Big LCD display and Mute/Unmute Mode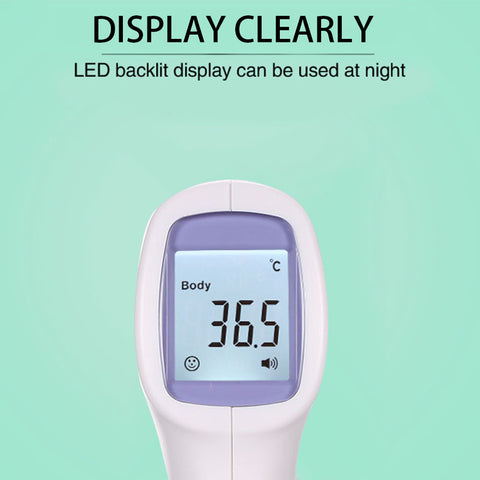 The digital thermometer with a big LCD screen ensures the display of clear readings. The instant-read thermometer along with a mute-unmute mode is a good choice for using as a baby thermometer at night. You should not be worried about waking up your baby while checking the temperature now.
No-Touch Forehead Thermometer
The distance between the thermometer and forehead should be 1-5 cm. It is a non-contact thermometer that ensures the safety and hygiene of you and your family. It is a more convenient option than a standard mercury thermometer and a touch thermometer.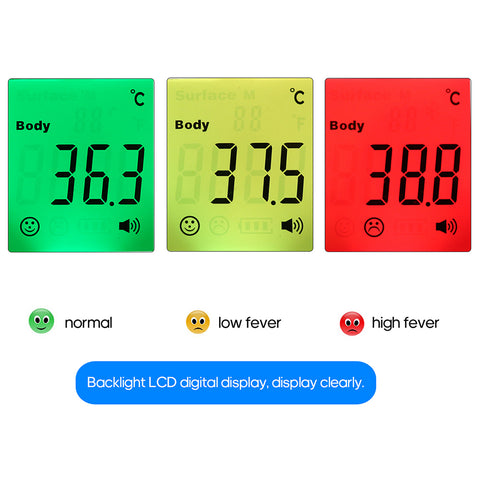 The thermometer of fever with high-temperature alarm will promptly remind you of the abnormal body temperature. It stores about 50 measurements so that you can compare body temperature changes. You can keep track of your temperature easily.
Specifications
Model No.: UX-A-01
Display range: 32℃~43℃
Temperature resolution: 0.1℃/°F
Measuring distance:

 

1cm~2CM
Memory array:

 

32 groups
Clinical repeatability: ±0.3℃
Measuring error:

 

±0.2℃
Operating environment:

 

Temperature: 10 ℃ ~ 40 ℃ Relative humidity: ≦ 85%
Transportation and storage environment:

 

Temperature: -20 ℃ ~ 55 ℃ Relative humidity: ≦ 85%
Automatic standby time:

 

20 seconds
Power supply:3V(Two AAA batteries)(not included)
Item size:

 

160 * 100 * 40mm / 6.5 * 4.2 * 1.9in
Item weight:

 

123g
Package size:

 

16*10*4cm
Package Weight:

 

156g
Important Points to Note
Clear the hair and sweat

 

from the forehead before measuring.
Do not

 

expose

 

the battery to the sun.
The protective glass out of the LCD frame is important. It is the fragile part of the thermometer. Make sure to

 

use it with care.
Do not charge

 

the non-rechargeable battery. Dispose of the battery with full protocols and do not throw it in the fire.
For Cleaning the thermometer, opt for a damp soft cloth and wipe it.

 

Do not put

 

the thermometer in the water and in liquids.
Contact the distributor in case of any problem.

 

Do not try

 

to repair it on your own.

Packing List:
1 x Thermometer
1 x User Manual
(Please note batteries are NOT included, they have been removed at manufacturing for accelerated delivery)
Due to high demand and scarcity of this product, thermometer shape, color, or model may slightly differ to a nearly identical model.
Shipping -Your Forehead Thermometer will

 

be packaged and shipped out within 3-5 days

 

of ordering. It

 

will delivery

 

within 7

 

to 15 working days!

 

Please be patient and note that delivery times will vary depending on your location.

 
---